Sacher's bands
Musicians who have played in and/or contributed to Sacher's bands are listed in alphabetical order.
SACHER
2018. –
Miljan Bakic, guitar
Ivan Beuc, guitar
Dragan Brkljacic–Faca, drums
Filip Ridicki, vocals

Vjestice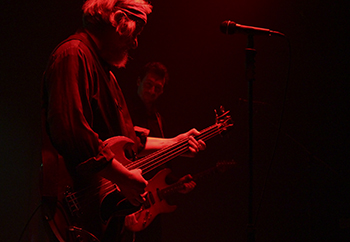 photo by Branka Sacher
1987 - 2012
Miljan Bakic, guitar, vocals
Igor Baric, violin
Zvonimir Bucevic-Buc, bass guitar
Frano Djurovic, keyboard
Jurica Jelic, fretless guitar
Max Juricic, guitar, vocals
Stanko Kovacic, bass guitar
Boris Leiner, drums, vocals
Mateo Martinovic, keyboard
Hrvoje Niksic, keyboard
Tihomir Novak, double bass
Janko Novoselic, drums, vocals
Jurij Novoselic, alto saxophone
late Ashish Roy (Nimai), tabla

Dee Dee Mellow
1986 - 1988
Srdjan Gulic, drums, vocals
Jurij Novoselic, alto saxophone, keyboard, vocals

Brojani
1985. - 1986.
Hrvoje Danilovic, guitar, harmonica, vocals
Mladen Malek, guitar
Josip Valentic, drums

Haustor
1979 - 1983
While Sacher was in charge, 1979 - 1983, these people were playing or just passing through the band:

Srdjan Gulic, drums
Jurij Novoselic, alto saxophone
Zoran Perisic, drums
Damir Prica Kafka, tenor saxophone
Darko Rundek, guitar, vocals
Nikola Santro, trombone, vocals
Ozren Stiglic, guitar, vocals
Zoran Vuletic, piano, keyboard
Zoran Zajec, guitar, vocals

as a guest-producer-instrumentalist:

Zeljko Brodaric Jappa
Husein Hasanefendic Hus
Stanko Juzbasic

and a lots and lots of people who came, stayed for a rehursal or two, and ran away.


There is more information about Sacher's bands on a number of fan sites so google it up if you like.