Short biography
Samuel (formerly known as Srdjan) Sacher is a composer, songwriter and poet. He was born 1955 in Zagreb, Croatia. Samuel studied archeology and ethnology at the University of Zagreb, but dropped out before graduation to pursue a professional music career.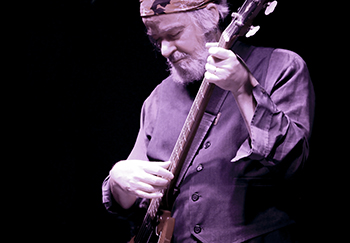 photo by Branka Sacher
From 1980, he has been an active songwriter, singer and bass player in five Croatian bands: "Haustor", "Dee Dee Mellow", "Brojani", "Vjestice" and "SACHER" band, respectively.
From the begining of his career, Samuel Sacher has been involved in TV and theatre production as a composer, songwriter or performer. (For a detailed list of shows, please visit the TV and theatre page.)
From 1990 to 2000 Sacher lived in Poland, Czech Republic, Portugal and South America. Then, after a few years back in Zagreb, he's spent the last ten years in Berlin, Istria and Lagos (Portugal).
He now lives in Zagreb again and has just recorded the first of the planned at least four albums.
In 2007 he changed his name from Srdjan to Samuel.
When the time comes, he plans to change it once more, to Santiago.